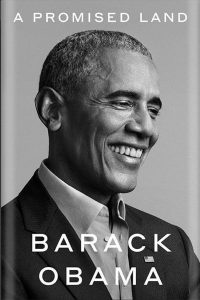 A Promised Land by Barack Obama
A Promised Land is a moving memoir written by a man who has both a deep love for his country and is motivated by clear ideals.  This is a book about transformational leadership, patriotism, American history, and a behind-the-scenes look at realpolitik. Obama's tale takes the reader through his formative years at college and university, his work as a community organizer, law school, the senate, and the beginning of his presidency.  He minces no words when he speaks about threats to the safety of Americans in the form of foreign powers, nuclear and environmental dangers, financial collapse, and pandemics.  
American exceptionalism is a key tenet of his belief system, and he has a deep and abiding faith in the peaceful coexistence of superpowers that are bound to international laws, rules and norms.  During his term in office, he tackled patriarchy in the White House, torture by Americans, as well as dealing with oil spills, a financial crisis, piracy, affordable health care, clean energy, stimulus spending, child nutrition, and racism.  His list of accomplishments is an impressive one but he is modest and self-deprecating, giving credit for most of these successes to his staff and colleagues.  He lightly brushes over the Nobel peace prize he was awarded for instance, and refers to it as being simply aspirational.  The memoir draws to an end shortly after the assassination of Osama bin Laden.  The final pages of the book refer to the underlying divisions in America and the bizarre "sideshow" and rising popularity of Donald Trump.  This is not a quick read (it weighs in at 701 pages) but it is a supremely worthwhile one.  It provides an eloquent summation of a very significant time in American history.  It offers an inspiring beacon of hope during this time of transition to a new administration, and a return after a bleak period, to presidential leadership that promises the best in America for America and its allies.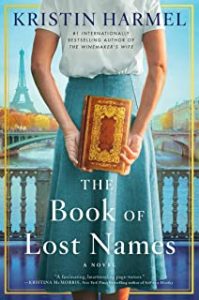 The Book of Lost Names by Kristin Harmel
There have been a number of historical fiction books published recently celebrating the courage and resiliency of individuals during WWII.  Harmel's book is a deep dive into the French resistance and the important work of forgers and human smugglers.  The research that underpins this book is incredible.  The characters are well developed, the dilemmas and personalities so real.  (And who wouldn't love a Jewish mother trying to match-make for her daughter while hiding in occupied France?).  This is an amazing piece of work, beautifully written and bittersweet.  I hope it's on everyone's MUST READ list.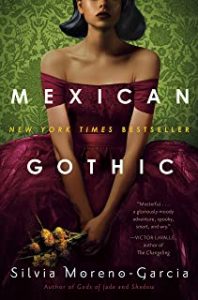 Mexican Gothic by Silvia Moreno-Garcia
This is a fabulous read! The Doyle family, once the prosperous owners of a silver mine, have been cursed.  Bad fortune haunts their house and its inhabitants, including the bride Catalina.  When she writes cryptic letters home asking to be rescued, her cousin Noemi rushes to join her.  Noemi soon uncovers all manner of strange occurrences, and struggles to free Catalina from the terrifying grip of the household.  This is a gothic novel in the truest sense of the word.  Beautifully written and utterly spell-binding.  Highly recommended.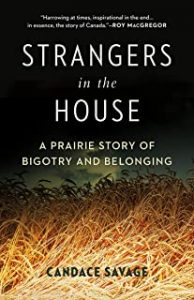 Strangers in the House by Candace Savage
Candace Savage begins this book with a simple quest to learn more about the history of her house.  Her research takes her back to the 1750s.  Savage focuses her exploration on the peoples of Saskatchewan – who they were and how they came to live there.  The story of the house is entwined with a sweeping survey of the history of Saskatchewan and contains an articulate summary of the role of the Metis, the rise of Orangeism and Protestant ascendancy, the development of the United Farmers of Canada, and the particularly hostile period when the KKK were active in the province.   The stories of the families who lived through these difficult times are heart-breaking, as are the strident divisions created between the disparate parties.  This is an accomplished work documenting an important slice of Canadian history.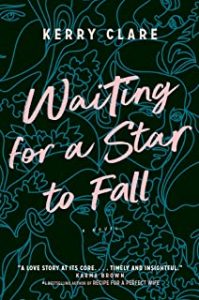 Waiting for a Star to Fall by Kerry Clare
This is a timely and relevant book.  For those of us who watched the public unfolding of a local politician's life in a Me Too media storm, this book offers a fictional exploration into the personal life of a public figure and one of his girlfriends.  Written with compassion and insight, Clare explores the complexities inherent in a relationship where an imbalance of power, age and intentionality play out.  At once heartbreaking and engaging, the love story unspools in such a way that the reader is left with much to ponder.  An excellent read!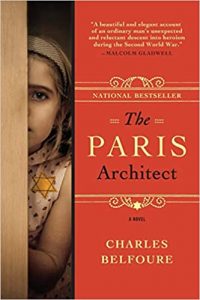 The Paris Architect by Charles Belfoure
To be honest, I put this book down several times before I was able to continue reading it.  The opening scene horrified me.  Lucien is an architect in Paris during the WWII occupation.  When we first meet him he is, by his own admission, a man without compassion.  I found him reprehensible and threw the book down when he expressed more concern for his tailored suit than he did for a man shot dead in the street.  In order to secure work as an architect, he is forced to negotiate with a wealthy industrialist who promises him a commission in exchange for work on a secret project.  
Lucien begins to collaborate with the Nazis and is given a free hand in designing beautiful, modernist buildings. Gradually he becomes aware of the utterly depraved and inhumane treatment of the Jews in the city.  Without giving away too much, let me say that Lucien evolves and becomes a more compassionate figure.  Belfoure is himself an architect and the book is filled with soaring descriptions of Bauhaus and modernist design.  This is a fascinating and accomplished book but comes with the caution that there are scenes of violence.